Remember
this
and
this
, well

sharikkamur
has provided me with a third set of Icelandic beers, these three being all Easter beers.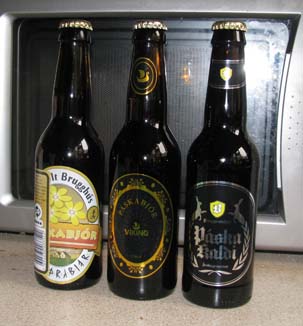 Last night,

lawrencewaite
and I tried them out:
1. Viking Paskabjor (4.8%)
This was better than the other Viking beers we've tasted. It had a darkish colour and a slight chemically smell. I detected a hint of a nutty flavour but Lawrence didn't. It had a not unpleasant hoppy and dry finish.
2. Paska Kaldi (5.2%)
This was even darker. The swimming pool smell from a previous Kaldi beer we'd tried was there again and I wasn't keen on this beer at all. There is a slightly OK taste at the beginning that promises a lot but then quickly dissolves into a chemically aftertaste. I had to eat a few cream crackers to get that taste out of my mouth.
3. Ovisholt Paskabjor (6.2%)
This was the strongest of all the Icelandic beers we've tried and I suspect the guy who sticks on the labels had a few before he labelled this bottle as the rear label had been stuck on in the wrong place so it obscured a third of the front label. The beer itself was an amber colour, slightly cloudy. It was better for swigging rather than sipping as that brought out the reasonable long bitter finish.